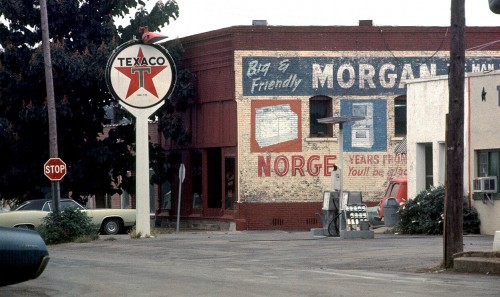 Morgan's Furniture Store in downtown Advance at the corner of South Ash Street and West Gabriel Avenue was the sponsor of one of the first local radio commercials I remember hearing. The appliance and furniture was always referred to in a booming radio voice as Big and Friendly Morgan's."
Just down the block from the furniture store was Morgan's Funeral Home. Lloyd Morgan was the first young man from Advance to go away to learn the science of embalming.
Getting the real scoop from Mother
I called Mother and said, "I have some Advance questions: which Morgan owned Morgan's Furniture and were all the Morgans related?"
Jack Morgan, she said, was the furniture guy. "When I was about 9 years old, I had diphtheria and people were supposed to stay away from me, but Jack was my 'boyfriend' and he brought me a bouquet of flowers." In later life, he was known for his odd dressing habits: his socks were frequently mismatched and his shoes untied.
Lloyd, the undertaker, she said, liked his spirits and would come into the Welch tavern to play the piano and dance. "He was a monkey, for sure." A small paperback book on the history of the town reported that "Lloyd always drove a good car, but he never took the key out of it. 'One of my friends might need a car real badly sometime and not have the time to look me up.'"
Mother's brother, Kenneth, my namesake, would go on ambulance calls with Lloyd, she said. "Times were tough back then and not everybody had money, so Lloyd would take chickens or whatever they could spare."