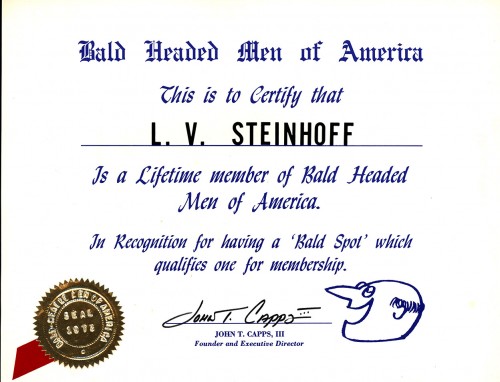 In 1973, I sponsored Dad to a lifetime membership in the Bald Headed Men of America. He started losing his hair in his 20s, so I knew I was going to be destined to comb my hair with a washrag. He was self conscious about it, Mother said, and always wore a hat when he was younger.
When he got older, he said one of the few things he missed about having hair was the protection it gave you against sunburn and scraping your head on stuff.
Check out my comb-over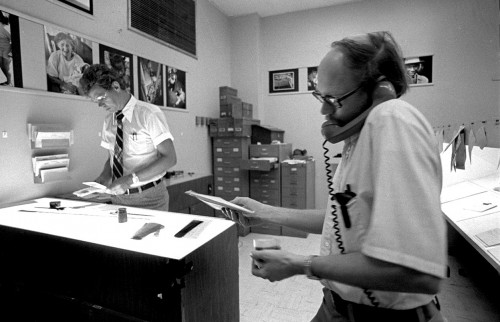 I didn't have any room to talk. By 1976, this photo taken in the Palm Beach Post photo department, will demonstrate I was sporting a serious comb-over. In my defense, I can only say that when you are combing your hair, you are look straight into your face, not at the top of your head. You've been parting your hair since childhood, so you don't sense that your part keeps creeping closer and closer to your ear.
My moment of truth came when I was riding in an open National Guard jeep on the way to photograph their summer camp. I felt my hair streaming out about a foot and thought, "Kid, your hair is going to get caught the in rearview mirror of a passing semi and you're going to be dragged to an ignoble death."
I visited a barber when I got back to town, and said, "It's time."
(I don't think it's necessary for you to click on the photo to make it larger.)
Founder J.T. Capps III

I did a quick Google search for BHMA founder J.T. Capps III, figuring his obit would have some interesting tidbit I could add to the post. It turned out that he's still alive and promoting beautiful heads – at least as late as 2015.
Maybe guys who don't waste energy growing hair live longer. I certainly hope so.
Newsletter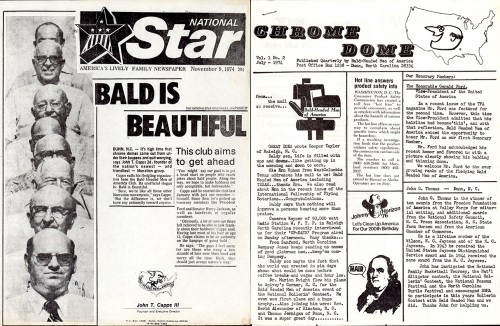 The organization even had a newsletter that came out quarterly. The July 1974 noted that Vice President Gerald Ford had been made the group's first honorary member.