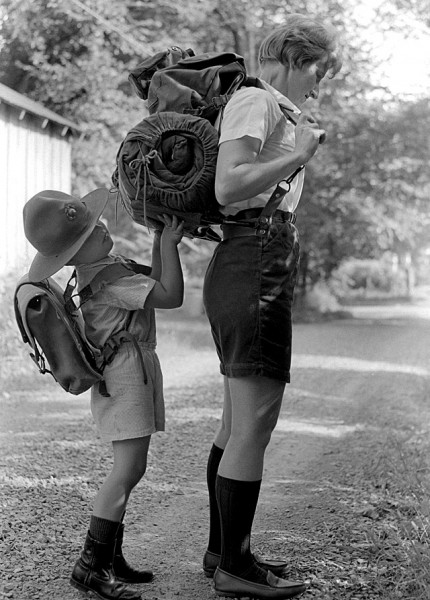 The August 8, 1967, Missourian caption said "Even Charles, son of Mr. and Mrs. George A. Ketcham, wants to assist his mother with her back pack, a 20-pound weight that she has been wearing for months in preparation for a hiking vacation next week when she will travel about 10 miles a day, walking over the Appalachian Trail with her husband, and her father." Click on any photo to make it larger. You can read the full Emily Hughes' story here.

Hike will start at Nantahala, N.C.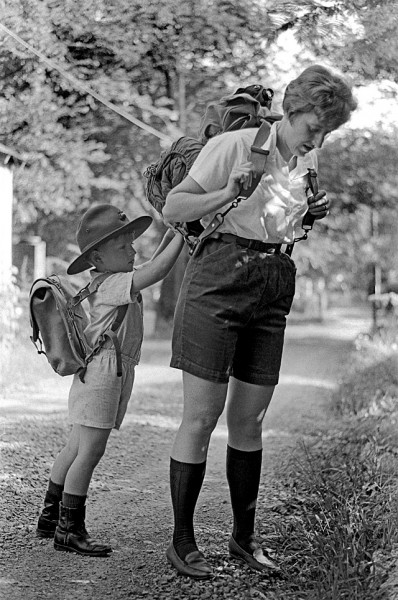 I guess someone thought the shot that ran in the paper was cuter than this one that shows Charles' face. Mrs. Ketcham's mother was going to keep the six-year-old while the hikers start out north of the Georgia border at Nantahala, N.C.
"Mother will drive us to where we get on the trail, 30 miles away," Mrs. Ketcham said, "and then we'll take three days to get back, rest and repack. Then she'll drive us to the other end and we'll hike the 20 miles back in two days. After that, well see how we feel. If we've had enough, we'll turn around and head home."
She had been working up to carrying a 20-pound pack since May. She wore it when she was working as a counselor during the Junior Cadet Day Camp so she wouldn't lose conditioning.
Grandma Gatewood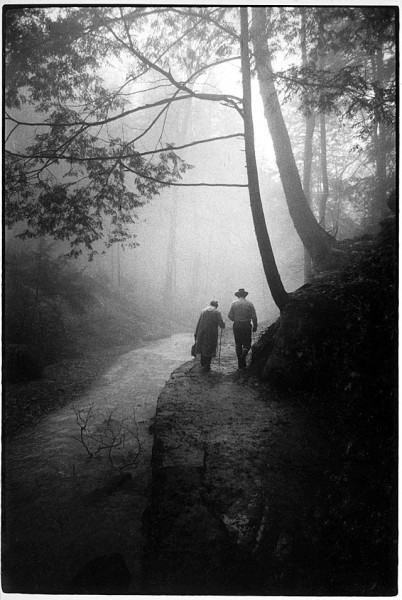 I've been scanning photos of  another hiker, Grandma Gatewood, for a future story. This is a shot you've seen before.
This remarkable woman was one of the first extreme hikers and an ultra-light hiking pioneer who was the first woman to hike the whole 2,168-mile Appalachian Trail in one season. She did it in 1955 at age 67, wearing Keds sneakers and carrying an army blanket, a raincoat, a cup, a first aid kit, one change of clothes and a plastic shower curtain, all stuffed in a homemade bag slung over her shoulder.
She hiked it again in 1960 and then again at age 75 in 1963, making her the first person to hike the trail three times (though the final hike was completed in sections). She also walked 2,000 miles from Independence, Mo., to Portland, Ore., averaging 22 miles a day.
This was shot in 1969 when she was walking in Hocking Hills State Park