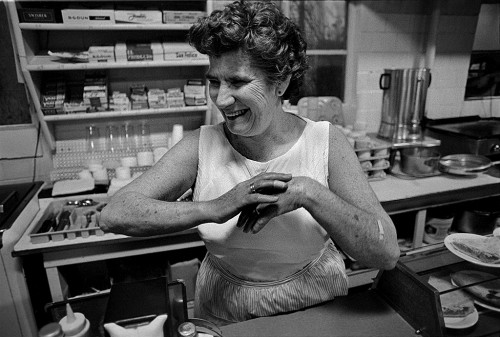 Back in the days before fast food joints, every town had a "Mom" and a Hilltop Restaurant. This Hilltop was owned by Mom and Pop Pennell in Athens, Ohio. (You can click on any photo to make it larger.)
Athens Messenger Chief Photographer Bob Rogers and I practically lived there. It was just up the hill from our photo darkroom, it was far enough from downtown and the university that parking wasn't a problem, it had good homecooking and comfort foods in large quantities, and, most importantly, it was cheap. Oh, man, I just got a craving for her hamburger steak with gravy, mashed potatoes and corn.
Lots of hustle and smiles
"Pop" worked the kitchen and grill. "Mom" waited tables, handled the cash register and acted as traffic cop behind the counter. It was the kind of place where the regulars would flirt with the waitresses, then pull family photos out of their wallets to show around. The highway patrol headquarters was just down the road, so this was a good place to meet troopers on "neutral territory" to swap war stories.
A time for reflection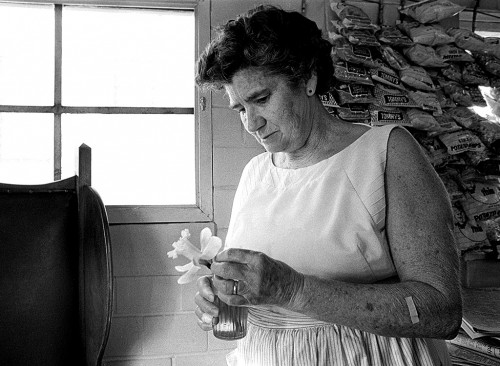 One day, Bob and I did a picture page on "Mom." I took this photo, and Bob had a more arty shot of the restaurant's neon sign shot through the window. That pretty much defined our shooting styles: I was the more literal journalist and he was an artist with a camera.
Here was the copy that ran below this photo: "You meet a lot of people in 10 years at the same location. At closing time, when business starts slowing down, Mom can sometimes be coaxed to talk about some of her favorite customers. Like the college students from years back who still visit her, or the hitchhiking servicemen she's given money for bus tickets. The end of the day is a time for reflection, and Mom Pennell, owner of The Hilltop Restaurant, has a lot to reflect on."
The morning the story ran, we stopped in to get her reaction. We watched customer after customer come in with the page cut out so they could give her a copy. That's when I realized that I had the ability to make someone Queen for a Day.
I've always said that my goal was to do stories about ordinary people doing ordinary things. I liked to photograph people who were unacknowledged by the paper except when they were born, when they got married, when they got a speeding ticket, and when they died. Somebody else could have the celebrity beat.
Good coffee in an honest mug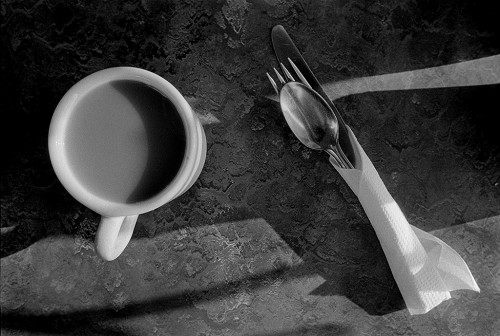 The Hilltop was a place where you could get a good cup of coffee served in a heavy mug. Even though the portions were big, I always managed to save space for a slice of her homemade pie or a huge ice cream sundae. At the time, I weighed all of 132 pounds, so I could get away with it. Or, maybe it just caught up with me in my 40s.
Visiting with Bob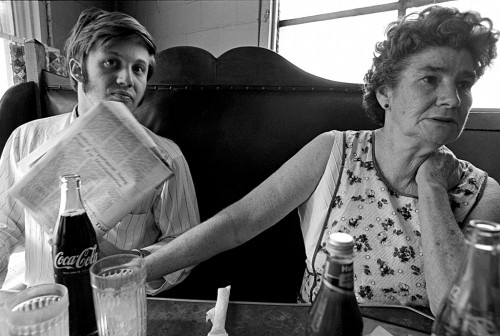 That's my partner Bob. We liked to think we were her favorite customers, but I'm sure that all of the regulars felt they held that honor.
It's tough being a "Mom"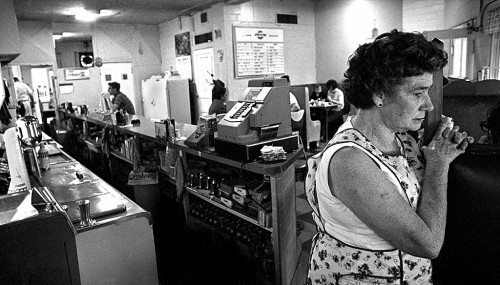 "Mom" was always upbeat in front of customers, but when she thought nobody was looking, she'd let her guard down. It was a tough job. I don't think The Hilltop was open seven days a week, but it opened early for the breakfast trade and stayed open for dinner. On top of that, "Mom" had to do the baking. She might sit down to pass a few words with a customer, but those breaks were short and seldom. I don't know how old she was, but even a younger person would find it hard to be on your feet as many hours as she was.
Where was Cape's "Mom"
I'd nominate Wayne's Grill's Dorothy for a "Mom."
The Colonial Tavern/Inn was Dad's favorite morning coffee stop.