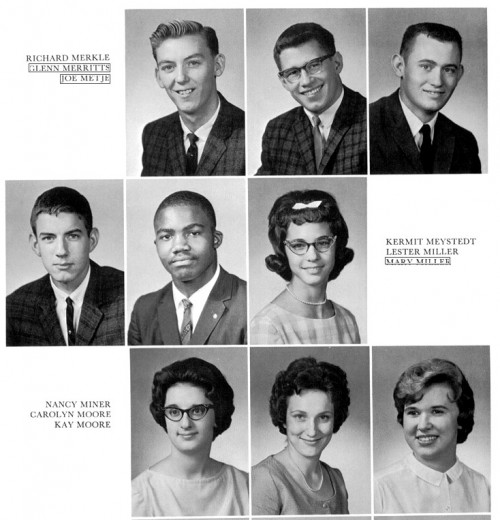 Unwelcome announcements are coming faster and faster these days. Brad Brune posted this note on Facebook Monday morning:
KERMIT "MOOSE" MEYSTEDT gone at 69 years of age.
Sorry this is last minute but it was just in Missourian this morning, and apparently few were aware that he was even ill. Remember he is brother to Diane Meystedt Legrand (CHS '66).
In speaking with his beloved son Jay, he shared that cancer of the liver was only discovered November 15th. Kermit was upbeat and enjoyed a wonderful Thanksgiving and Christmas with his family and close friends. All were optimistic. Last Friday night he suddenly experienced some pain and to be safe was admitted to the hospital to have it checked out. He digressed quickly and passed away at 9:45 AM Saturday morning. This happened so quickly that the family is in shock and prefers some privacy to mourn and come to grips with his unexpected loss .
The formal obituary
Kermit J. "Moose" Meystedt, I, 69, of Cape Girardeau, Missouri went to be with his Lord and Savior Jesus Christ Saturday, January 10, 2015. He was born in Cape Girardeau July 20, 1945, son to Clarence and Hazel Meystedt.
Moose graduated from Central High School in 1963 and received a Bachelor's Degree from Southeast Missouri State University in 1967 where he still holds the record for most points scored in a single basketball game, 52 points. He then went on to be drafted by the Kentucky Colonels of the ABA.
Married November 6th, 1970, he faithfully led his family as a husband to Sandy Haney Meystedt of Cape Girardeau; a loving father to Madra (Michael) Jones of Cape Girardeau, Kermit Jay (Gabrielle) Meystedt, II of Cape Girardeau, and Aron (Lauren) Meystedt of Dallas, Texas; and grandfather to Graesen, Anna Clare, Savannah, Liviah, Kermit Jay, III, and he was anxiously awaiting the arrival of grandchild number six.
Moose was an active member of Trinity Lutheran Church in Cape Girardeau and was currently serving on the Board of Elders. Moose and Sandy founded Genesis Transportation in 1982 and retired together June 30, 2012. During that time the Lord used Genesis as an outward expression of their faith in Jesus Christ to provide for countless missions across the United States.
Here's a link to the formal obituary with a photo.
1963 Girardot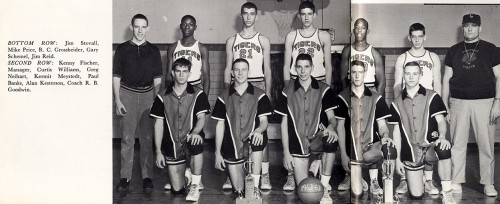 Spring sports were always confusing because they happened after the current year's Girardot had already gone to press. That meant you were playing catch-up in the next year's book. (By the way, you can click on all the photos to make them larger.)
The yearbook reported that the varsity basketball team had an outstanding season: The school record for points scored by an individual in a single performance was broken by Kermit Meystedt when he personally accounted for 47 points out of a 98 – 53 victory in the Tigers' final game against Farmington. Meystedt made second team all district, missing the first team by one vote, while teammate Greg Neihart made honorable mention.
He went on to set a Southeast Missouri State College scoring record of 52 points in a game.
1962 State baseball champs

Kermit was key in getting the final out in the 1962 State tournament finals in St. Louis. The whole story is in the 1963 Girardot, above.
Had a .555 batting average

The 1962 Girardot indicated that Kermit was going to be a force to be reckoned with: The Freshman-Sophomore baseball team went undefeated in 1961, emerging victorious in seven contests. Kermit Meystedt, who played on both the varsity and Freshman-Sophomore team, led the team batting average with a .555 mark.
As the 1962 varsity season got underway, things looked bright for the baseball Tigers. Returning from a 1961 squad, which compiled at 15 – 3 record, were twelve boys. The twelve lettermen included last year's top three pitchers and two of the top four players in the RBI department. Steve Mosley, Alan Kesterson and Kermit Meystedt were the pitchers, and between them they hurled eight one-run games, seven shut-outs, three one-hitters, and two no-hitters, both pitched by Steve Mosley. The pitching staff had a phenomenal ERA opf 0.395. In the slugging department, Floyd King and Meystedt led.
1961-62 SE Missouri Conference Champions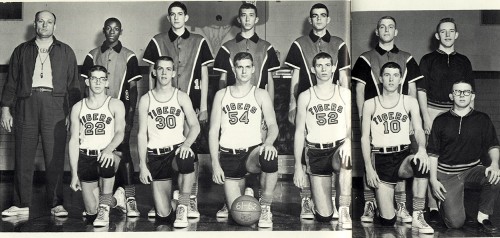 The Coach's Comments in the 1962 Girardot pointed out that the Tigers had won the Big Eight and College High Christmas tournaments and city series competition. The only loss in the regular season was to the "powerful Advance Hornets, one of the top Class M teams in the state. The Tigers entered the State Regional with a 21 – 1 record.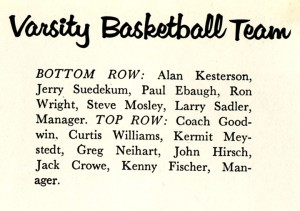 You can see Kermit in SEMO college action here.
Oh, and the 1963 Senior Directory mentioned some things about Kermit that most of us probably didn't know about him. In addition to his sports achievements, he was elected secretary and treasurer of his home room, and he entered the National Poetry Contest.