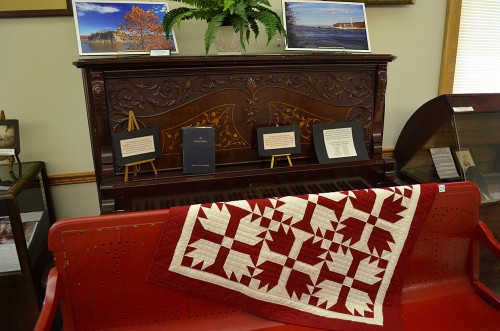 I live with a quilter and have several friends who are deeply into the craft, so I can appreciate how much work goes into a handmade quilt.
The Lutheran Heritage Center & Museum in Altenburg is hosting A Celebration of Red and White quilt exhibit through the end of April (not much time left to get up there). The exhibit is the personal quilt collection of Ann Meyer Hazelwood:  author, former president of the National Quilt Museum, quilt appraiser, public speaker, and quilting expert.
The exhibit features world class examples of historic and modern quilts with a red and white theme, as well as a large collection of ornate Victorian-era red embroidery on white linen "Splashers"–used to protect the wall from wash basins.
The exhibit is open daily through April 30, from 10:00 a.m. – 4:00 p.m.; 75 Church St., Altenburg, MO. Admission is Free.  For more information call:  573-824-6070 or go to the museum website.
The staff and volunteers are friendly folks who will make you feel like you've known them forever. Tell 'em I sent you.
Photo gallery of quilts
Click on any image to make it larger, then use your arrow keys (or click on the sides of the photos) to move through the gallery.