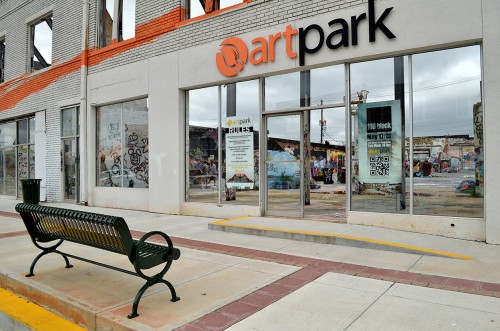 All of my Road Warriorettes – Jan, Shari, Anne and Curator Jessica – have different sleep patterns than I do. I'm up until the wee hours of the morning doing blog posts after driving all day. They're snug in their beds snoring the night away, then they get up early and traipse down to the motel's free breakfast. I sleep until 9:32, check my email and get rolling just before check-out time. Actually, Shari was the strangest of the batch: she doesn't come to life until she fills her tank with Starbucks coffee. I'd set the GPS for the nearest Starbucks and leave her a set of keys, hoping she wouldn't leave me stranded in some backwater town.
Because Anne and Jessica had the early breakfast this morning, they weren't overly hungry. My hunger alarm was clanging loudly by the time we got to the first town of any size, Albany, Georgia. We had set a goal of avoiding chain joints and had been doing well so far. The first candidate looked a little tea roomy for my taste, so Curator Jessica was dispatched to see if it had tablecloths and/or candles.
I don't remember if she said it had hanging ferns or not, but we elected to drive around the block to see what else was downtown. When we made the turn, the Albany Artpark on Pine jumped out at us.
At first glance, it was hard to tell if the front windows were painted, if we were looking at reflections or if the colorful images were inside. I put my hunger alarm on snooze.
Fascinating urban art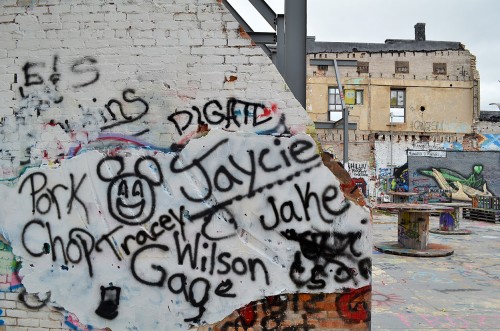 What we discovered was one of the most innovative uses of an old building I had ever seen. A local organization bought a neglected building, razed the upper floor to make it open to the sky, and beefed up the exterior walls. It became a huge open-air art gallery.
There was such a 3-dimensional feeling to the graffiti art and the surrounding walls that it was hard to tell what was art and what was reality.
We were a day early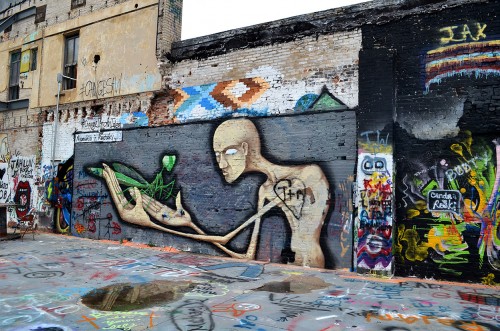 The stuff we saw was, for the most part, the equivalent of finger exercises. A formal paint-off was held the day after we were there. News accounts I saw online showed some remarkable work. It's sort of like the annual chalk street paintings held in Lake Worth, Florida.
Opportunities for other towns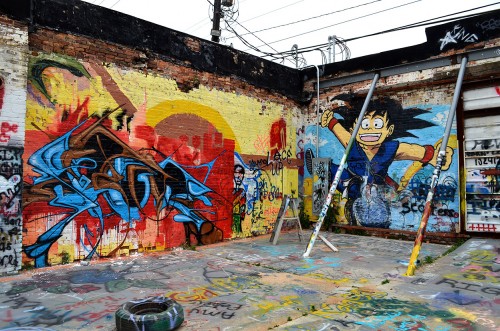 Every place I've lived has more than its share of decaying buildings in its downtown areas. I'd love to see art parks like this pop up all over. It's a great outlet for artists, and the images are fun to look at.
While we were walking around, we visited Ray Charles Plaza, the subject of yesterday's blog post. We found a great local restaurant on the way of town. It had great food at a reasonable price, served without table cloths, candles or hanging ferns.
Art Park photo gallery
Click on any photo to make it larger, then use your arrow keys to move through the gallery.