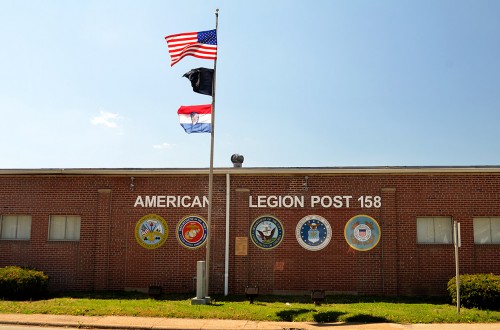 Stories that you think are going to be so simple often turn out to have mysteries. While researching something else recently, I saw a brief about a local serviceman's body being shipped home from France during World War I. I recognized the name as being on the Altenthal-Joerns American Legion Post 158 in Jackson.
Which name is right?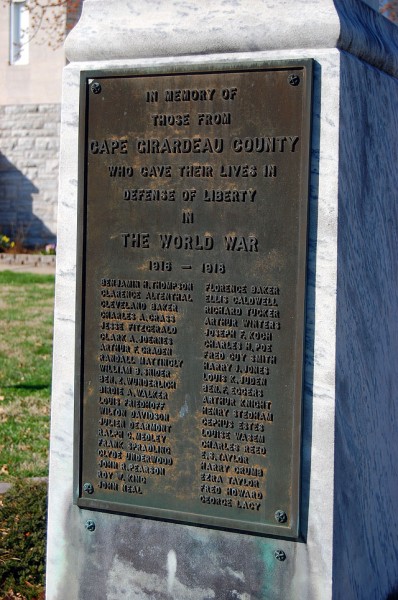 When I Googled Altenthal, a couple of Missourian stories about the WW I memorial at the Jackson Courthouse popped up. Both of them listed the war dead, including Clarence Altenthal and Clark A. Joernes.
"JoernEs?"
Thinking maybe The Missourian made a typo in the first story that was picked up in a follow-up, I dug out photos I had taken of the memorial and confirmed that the paper was right: it WAS spelled with an "e."
Front page story uses "Joernes"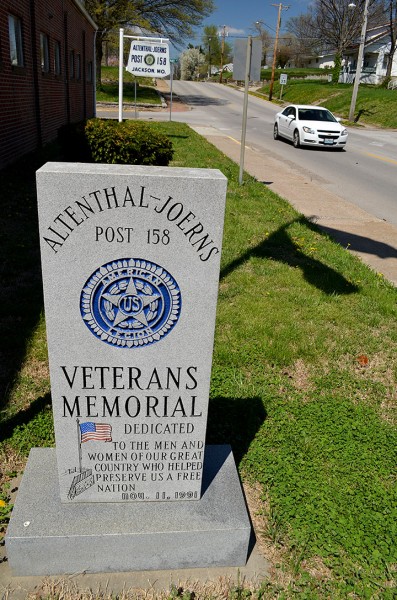 The April 3, 1919, Missourian had a Page 3 story headlined, "Oklahoma Woman Asks About Boy Killed in War."
The story said, "Mrs. Kate Maybrey, wife of Major W.L. Mabrey, who has been designated as the official gatherer of data regarding boys in uniform from this county, is in receipt of a letter from Mrs. Louis Phillips of Oklahoma City, Okla., wherein she asks information regarding one Clark Joernes, who had written her and given Jackson as his home. Mrs. Phillips says in her letter that Clark Joernes is the only man who acknowledged receiving one of the many Christmas packages which Mr. and Mrs. Phillips had sent to soldier boys about Christmas last year, and she wanted to know more about the boy. He was at Fort Sill when he received the Christmas package.
"Sad to relate, however, the kind-hearted woman will never become better acquainted with the boy she befriended, and who acknowledged being the beneficiary of her kindness. Clark died the death of honor on the battlefield on September 28, 1918, when an enemy bullet laid him low in the fierce fighting in the Argonne Woods. He was a member of Co. L, 140th Infantry, 35th Division, in which so many of Cape County's best young men covered themselves with glory. His sister, Mrs. Joe Headrick, lives here and Clark made his home here part of the time before induction into the army."
Eyewitness to deaths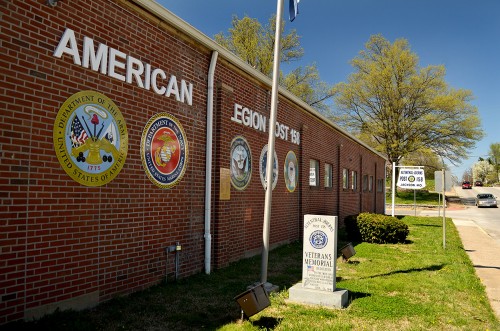 The May 28, 1919, Local News from the County Seat roundup had an item, "Otto Davis, who returned from overseas with the 140th and is at home now, has brought to relatives of Clarence Altenthal the first authentic news of the way Clarence made the supreme sacrifice during the fighting last summer. Davis saw Altenthal fall when hit by a piece of shrapnel, saw him reel and drop to the ground, mortally wounded. He was not more than twenty feet away from Altenthal when the latter received the death wound. Davis also saw Joerns, another Jackson boy, when that boy gave up his life for his country. Joerns received a ghastly wound, his head being shattered by shell fragments."
Joerns' mother's obituary
Giving more evidence that the Legion post is named correctly and that the courthouse memorial has a spelling error, the March 3, 1932, Missourian carried a story, "Mrs. Minnie Joerns, Mother of Jackson War Hero, Succumbs."
"Mrs. Minnie Joerns, 67 years old, died Wednesday night at the home of her daughter, Mrs. Mildred Robinson, in Jackson, death coming as a relief from long suffering from cancer." At the end of the list of survivors, it said, "One son, Clark Joerns, was killed in action on September 28, 1918, in the World War in the battle at Argonne, and the local post of American Legion No. 158 honors his memory by bearing his name."
(This story was overshadowed by news reports of Little Lindy's kidnapping.)