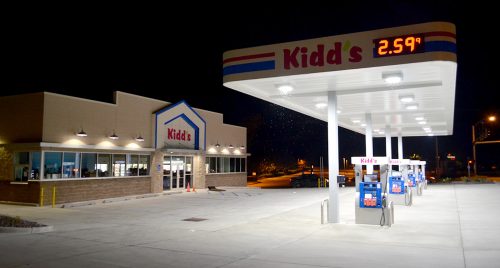 When I was cruising down Broadway the other night, I noticed the remodeled Kidd's Gas Station and Convenience Store at the corner of Broadway and North West End Blvd. was all lit up. They are either open or getting ready to.
An architect's rendering of the place in a July 12, 2017, Missourian story showed it looking just about like the final version. It even showed gas prices to be $2.57, not far off from today's prices.
The remodel increased the number of pumps from four to eight; moved the drive-through window to the east side of the building, so cars would wrap around the back of the store, and increased the space for parking.
If you click on the photo to make it larger, you can see a bunch of white specks under the lights on the canopy. I thought I had a defect on my camera's sensor until it dawned on me that those are bugs.