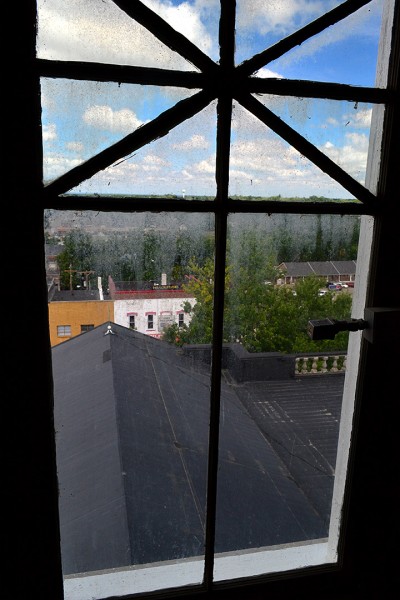 When I was up in the dome of the Jackson Courthouse on a hot summer day in 2012, I took a picture of a white building at 125 Court Street, but I didn't pay much attention to it.
When I was back this spring, I shot a couple of frames of it from the ground, but they were just building mug shots in case it burned down or figured in the news in some other way.
Jackson Uptown Commercial District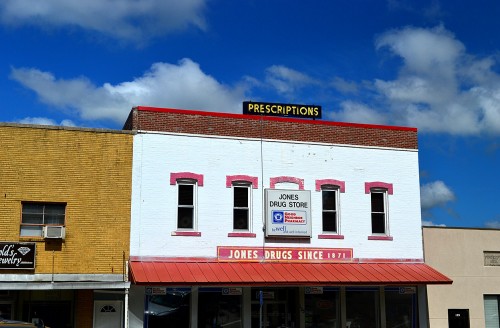 I was still curious about it because of the sign on the front that reads "Jones Drugs Since 1871." My first Google attempts didn't bring up anything about the history of the place, so I was ready to stick it in the "nice try" stack. A couple pages down, though, was a National Register of Historic Places registration form for the Jackson Uptown Commercial District.
The form describes the building at 125 Court Street as being "a two-story brick, two-part commercial block building with a stepped parapet wall. The original double hung one-over-one windows remain on the east and north elevations. They have segmental arch brick hoods with stone sills. The cornice line is simple but original and intact. The storefront of has large glass display windows – two bays on the south side of the recessed center entrance and three bays on the north side."
Here's the really cool part
Just about the time my eyes were glazing over, I got to the really cool part: "In 1908, when the new courthouse was completed, the city of Jackson implemented plans to beautify Jackson causing the street design plan to change to create the Courthouse Square. Jones Drug Store was scheduled to be demolished, but Mr. Jones contracted with a St. Louis firm to have his building rotated to face the new street. Using horses and wagons to rotate the building, Jones Drug Store became the first building in the local region to be moved and turned to face in another direction."
You never know what you're going to find when you tug on a thread of history.