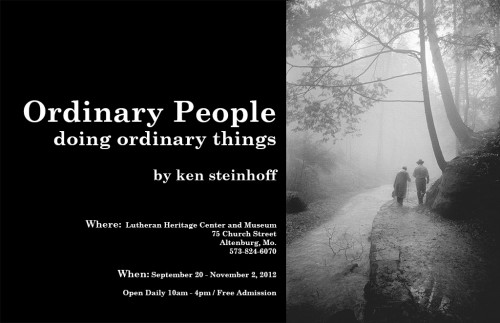 The kind folks at the Lutheran Heritage Center and Museum were kind enough to send out a bunch of press releases today.
For Immediate Press Release:
The Perry County Lutheran Historical Society's, Lutheran Heritage Center & Museum is pleased to open a new exhibit: "Ordinary People Doing Ordinary Things: Ken Steinhoff Photojournalist, 1964-Present," featuring nearly 50 years of photography from: Cape Girardeau County, Perry County, New Madrid, MO; Tower Rock, portraiture, and other rural documentary photography.
Steinhoff's take on his work is, "I've covered popes, presidents, and the Queen of England, but I really like to shoot ordinary people doing ordinary things: the invisible folks whose names only appear in the paper when they are born, when they die, when they get married and when they get a speeding ticket."
Open Daily Now- through November 2–10:00am-4:00pm-. Free Admission
Lutheran Heritage Center & Museum, 75 Church St., Altenburg, MO 63732
573-824-6070
 Sneak Preview
You can see more layouts here.
I'm going to be doing a photo and video presentation at a conference at the museum on October 25, but I'm setting up a "dress rehearsal" a week or so in advance of that. I have way too much material and want to know which babies to throw out of the lifeboat. I'll post more info when I get to Cape around Oct. 10 or so. I'd love to see some of you up there so you can hear my war stories in person.