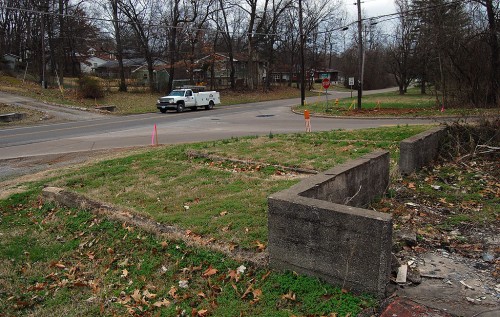 When I come to Cape, I like to cruise around looking for familiar places and to find roads my Mother and I have never been on. While on one of our explorations, we came across this foundation at the corner of Bertling and Big Bend Rd. Neither of us could remember what had been there.
The building had tile floors
The layout didn't feel like a house or a gas station.
It was of considerable size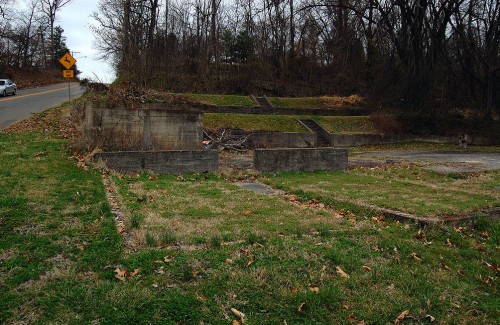 The two square foundations in front of the big foundation, with a walkway between them, are odd, too.
Where did these stairs lead?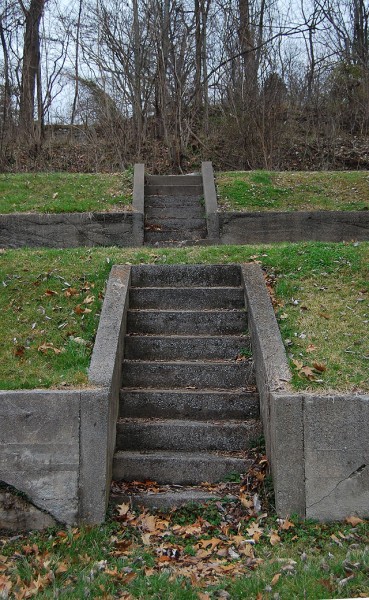 We thought that it could have been some kind of business. Maybe the steps lead to the owner's house higher on the hill.
I was planning to file these away until I could poll some other folks, but I saw that DrummingFireman was equally curious.
He posted a comment on Fred Lynch's Southeast Missourian blog, "Anybody know, or have any pictures of what used to be at the corner of Bertling and Big Bend. There's what looks like a foundation, and some concrete steps. Always wondered what used to be there."
I figure I'll throw this up for someone to fill in the gaps for Mother, DrummingFireman and me.
UPDATE UPDATE UPDATE
You readers have done a great job helping solve this mystery. Fred Lynch and Sharon Sanders found photos of the old buildings and added a lot of details about the fatal fire and the history of the site. Only Sharon (and her predecessor, Judy Crow) could dig up stories about things like the Great Chicken Thievery that wasn't discovered until a neighbor noticed chicken heads on the side of the road.
This is a great piece of historical reporting, even if you're not from Cape.