There will be a candlelight vigil for Elizabeth (Betsy) Gill at the site of the former Cape Girardeau Mississippi River bridge Sunday, June 13, at 8:15 p.m. The vigil will mark the anniversary of the toddler's disappearance in 1965.
Here is a photo of her just before she went missing and a composite photo of what she might look like today.
Betsy's sister, Jean, produced this moving video using family photos, illustrations and a haunting folk tune.
Messenger of Love
In looking through some of The Missourian's archives, I came across a bizarre twist: Philip Odell Clark, who murdered Zola Clifton, his ex-wife's grandmother, claimed from prison that he had hit Betsy with his car the night she disappeared. He had been drinking and was afraid to turn himself in, so he disposed of her body.
Phillip Odell Clark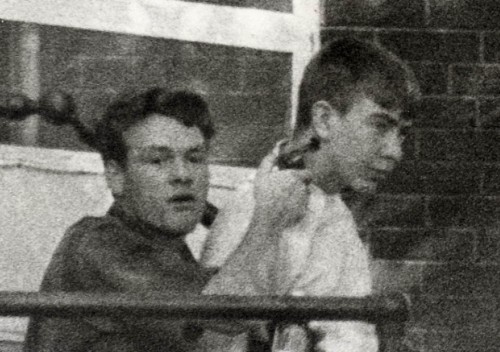 I shot this photo of Clark coming out of the house where he had killed Mrs. Clifton and held family members and this paperboy hostage overnight. I later spent about 12 hours in a Cape County jail cell with him taping an account of his life. At no point did he ever mention Betsy Gill.
He was killed by another inmate while in prison. As far as I know, authorities didn't put much stock in Clark's claim.