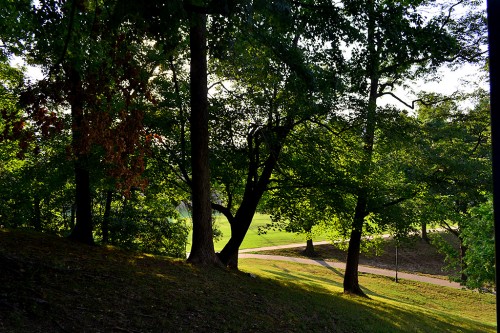 Several of my readers have mentioned Cardiac Hill on the Southeast Missouri State University campus. They're mostly crazy folks like Terry Hopkins, who participated in track, a sport where you run even if nobody's chasing you.
It's quite a bucolic sight, looking off to the west of the path that leads from the Academic Hall area down to The Towers and other student housing. Even on an afternoon when the temperatures are sliding to around 103, the shade and greenery have a cooling effect. You can click on the photos to make them larger.
Cardiac Hill's not so tough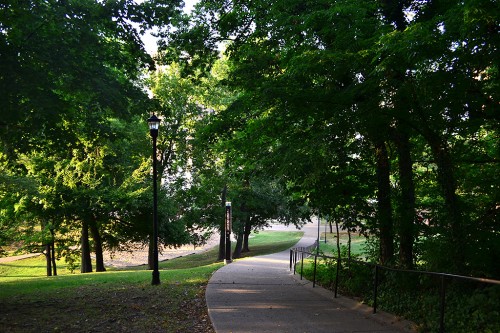 In 1990, we took the Great Trip Out West, which included the Grand Canyon. I knew that you should never walk DOWN further than you are able to walk up, so I discouraged Wife Lila and Sons Matt and Adam from going down too far on a day when the temperatures came close to the surface of the sun as measured from Mercury.
When it came time to turn around (actually, when it was PAST time to turn around), I got about 15 steps and found myself with my hands on my knees, bent over, watching sweat splash onto my Redwing boots. Adam, who was about 10, kept scampering around us wanting to keep going. Finally, hoping he would get lost or eaten by a goat, we turned him loose.
When we looked up, we saw him seemingly half a mile ahead of us hanging over a lookout point with some concerned-looking adults. We could make out that they were having a serious discussion, probably about his welfare. Finally, he leaned way out and pointed to us. He was probably telling the strangers, "Those are my parents, if they live."
Learning from the Grand Canyon
Even though it didn't look like Cardiac Hill was all THAT steep and it wasn't all THAT long, I used the Grand Canyon Rule and went down only about a third of the way, not quite to the emergency stanchion that I assume is the half-way point.
I DID mention that it was 103 in the shade, right?
I'm going to use a different rule next time: Take the temperature (103), subtract my age (65) and subtract the grade (12.5 degrees, estimated). The result (103-65-12.5) = 25.5 feet, the distance that I should consider walking down Cardiac Hill. I was going to build in humidity, but that would have left me with a negative number to walk.
Thanks to Dr. Bambi, AKA the Yarn Bomber, who told me how to get to Cardiac Hill.