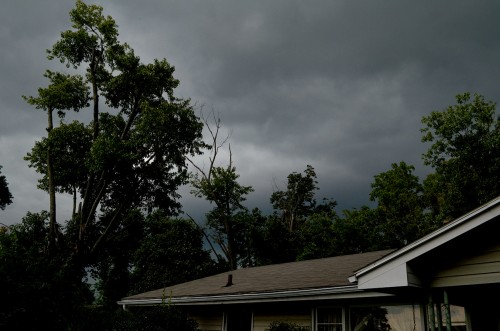 I was supposed to head out for Athens, Ohio, on the afternoon of August 19 and make a leisurely two-day drive out of it, with some sightseeing along the way.
Right before I started breaking down the computer equipment for loading, the weather alert radio went off with a severe thunderstorm warning with reports of baseball-sized hail west of us. I didn't want to take a chance on getting holes punched in my windows before heading off cross-country, so I holed up under the overhang at the nearby funeral home. I was joined by two other cars shortly after.
We got some gusty winds, heavy rain and about five minutes of pea and marble-sized hail, but it blew through quickly. A few limbs snapped off a walnut tree on the side of the house, but that was about it. Based on scanner traffic, Jackson must have gotten more of the storm than we did.
Saying goodbye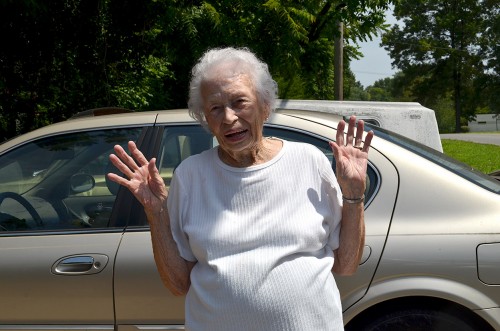 Mother and I usually take a group selfie when I head out, but since I'm going back to Cape in about a week, we decided to go with a wave.
I think she's been watching too much TV news out of St. Louis. That looks less like a wave than a "Hands Up, Don't Shoot" pose.
Traffic was OK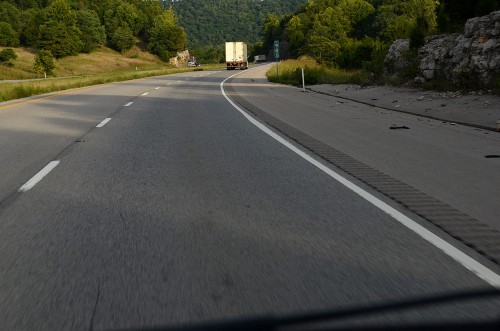 With only a couple of exceptions, traffic was light and moving smoothly. Some clouds popped up a few times, but I had more bug splatters than rain splatters on the windshield.
Worked in a few naps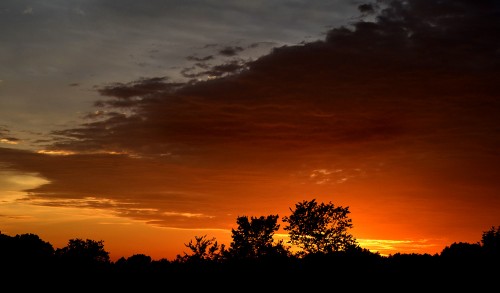 Listening to a good audio book about World War II kept me awake, but I did stop at some rest areas for seven and nine-minute naps. This is what I saw when I woke up from one of them.
I was in good company: there were six or eight 18-wheelers in the parking lot with their diesel engines grumbling away. It was either that or their pilots were really snoring.
Rolled into Athens with 532 miles under my belt at about 1:18 a.m. (I lost an hour due to the time zone change.) Wife Lila complained that 1:18 isn't an "about" time.
I tried to explain that the exact time would be 1:18:42. I just rounded it to 1:18.
I don't think it's going to be safe for me to go home.