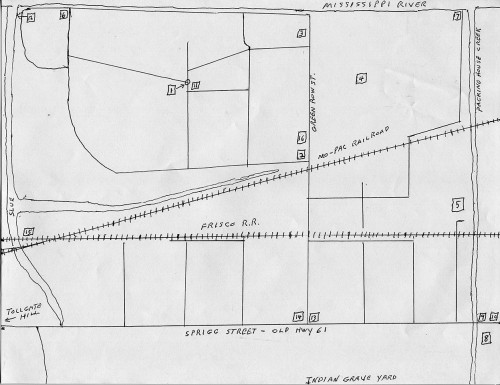 I hinted yesterday that I many have to cut back on blog posts while I rush to finish an update to my Smelterville stuff before the Vine Street Reunion July 25-27 and put together a workshop in Athens, Ohio, in August.
I've spent most of the past week editing video interviews. Today I waded through emails and comments from people who talked about Smelterville. That's where I stumbled across a treasure trove of information. Just about this time last year, I got an email from Eugene Beckett. He said he had some photos of the area in the '30s, '40s and '50s, plus a map that he had put together showing many of the landmarks. I asked if he could send me the info.
Consigned to the Future Basket
When it arrived, I looked at it hurriedly and put it in my Future Basket. Well, today, I took a closer look and was floored by what he had sent.
It dovetailed directly with my workshop topic. He did everything I'm going to encourage the participants to do
1. Make or collect the photographs
2. Document when they were taken
3. Write a description of what they show.
(Basically all the stuff I wish I had done for the past half century)
He went the extra step of producing the map of an area that doesn't exist today.
Legend for map
1   –  City Pump. The only water between the railroad and the river.
2   –  Funny Ferrell' Store
3   –  Ben Cannon's Church
4   –  Old foundation of the Lead Smelter plant
5   –  Central Packing Co.
6   –  Fish Market
7   –  River Navigating Light
8   –  Blue Hole Garden Barbecue (the old Blue Hole Garden was at the bottom of toll-gate hill where they build the new hwy.)
9   –  Standard Oil Service Station
10 –  Federal Material Co. Office
11  – Kelley's Store
12  – Sandy Beach.
13  – John Deiteker's Store
14  – Lane's Market
15  – Railroad switch house
16  – Booker T's scrap yard
I told Curator Jessica that she needs to find a Eugene who has done that kind of documentation in the scores of old coal towns in SE Ohio that are ghost towns or merely memories. The goal of our workshop is to encourage people to go out today to start the documentation that will be invaluable in 30 or 50 years. I'm just beginning to realize what a resource my files are, and I'd like to encourage others to produce similar collections.
Living in Houck Woods during flood
One of Eugene's photos is of his grandmother, Sarah Addie Bequette in a tent village in the Houck Woods up Tollgate Hill where Smelterville residents fled Mississippi River floodwaters. I'm going to guess this was the Flood of 1943. I had read accounts of that, but here is an actual photograph of one of those refugees. Eugene also wrote an extensive biography of Mrs. Bequette.
Here's why his detective work and captions are so important: if you look at the photo without the background, you might think she's on a camping trip or that there's a tent revival set up in the background. Filling in that detail about the flood places it in historical context.
Thanks to Eugene for sharing his family documentation.
How to stay up to date
I used to be able to post links to new stories on Facebook, but FB has changed the way it delivers status info to your timeline. If you "liked" a page in the past, you would get updates delivered to you. Now, FB is playing games to force folks like me to pay to "boost" our posts. If we don't pay, only about 10% of my readers receive status reports.
Here's an easy and free way to stay up to date on my new posts: sign up for the blog's email notification service. It's free, you get only one notice a day and I promise not to spam you. It's as easy as clicking on THIS LINK or the "Manage Subscriptions" link at the top left of the page.
I don't need Facebook when I have loyal readers.