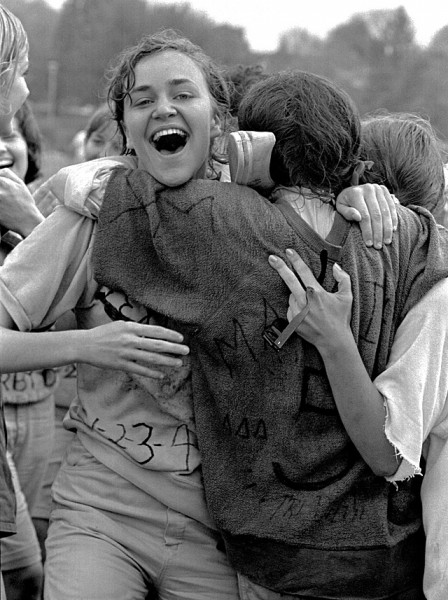 Delta Delta Delta sorority sisters Janet Maurer. left, and Karen Totty embrace at the 1966 Greek Games at Capaha Park. The caption used one of those cliches that always causes my teeth to hurt, "Mid-afternoon rain didn't dampen the spirits of the of the more than 700 college students who participated in the games and contests." The Tri-Delts looked like they were going to post their fifth straight win in the annual contest, but the Alpha Chi Omegas won the Go-Go Disco Contest to overcome a two-point deficit.
I've got about 150 frames scanned from the Greek Games (including a wardrobe malfunction never noticed before). I'll get around to posting them one of these days. (Click on any photo to make it larger. This, by the way is NOT the wardrobe malfunction photo, so don't strain your eyes.)
This shot won first place in the Missouri Press Association contest in 1967 and helped The Missourian win the Golden Cup Award for Best Newspaper in the State.
Best Paper in the State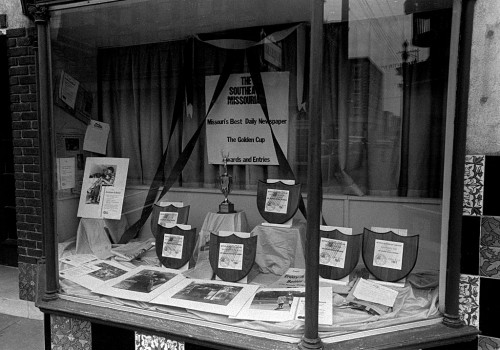 A window display gave the paper a chance to brag a bit. I still have some of the cool wood and ceramic plaques on my wall. Here's the story that lists all the details.
Not bad for a college kid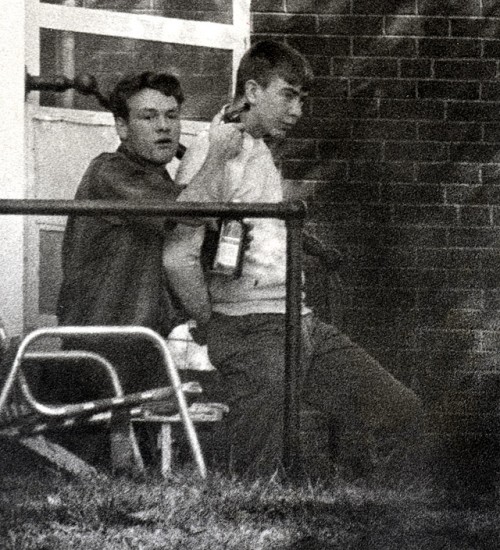 In all, I won two first places (feature photography and news); a second place for sports, and honorable mentions in sports and features. The paper won second place for best use of local pictures. The Youth Page I edited won an honorable mention. My picture of  murderer Phillip Odel Clark emerging from a house with a whiskey bottle in one hand and a pistol in the other pointing at the head of newsboy he was holding hostage was judged best news picture of the year.
After that, I had to leave town because that was going to be a tough year to top.
Working on book proposal
I'm under the gun to get a book proposal to a publisher by Monday, so I may have to slack off a couple of days to make the deadline. Interestingly enough, they are less concerned with my ability to produce the content as they are worried that I don't have enough local ties to Cape Girardeau.
So, does anyone want to stamp my Cape passport?