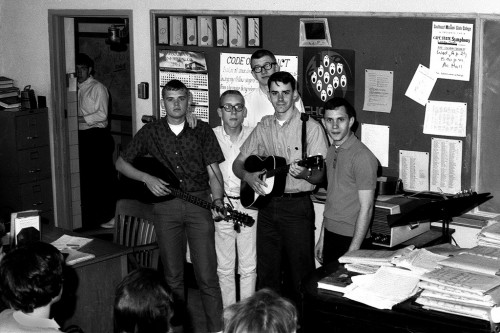 I recognized Pep Foster in this picture, so I sent him a copy and asked, "Who are these people and what are they doing?"
Pep was kind enough to scratch his head a few times and fire back this message:
From left to right (the numbers after the names are class year, not ages):
Bill Withers 66
Gary Fisher 66
Preston 'Pep' Foster 64 (age barely 17)
J. Frank Moore 64
Ron Anderson 64
From the bulletin board,  it would be Dale Williams Choir Room. The 1964 wall calendar says Student Council Talent Show / Hootenanny Spring 1964.
Gary and Pep did a duet of two Kingston Trio Songs.  I remember that Bill and Jay and Ron all built Lutes or Guitars with Mr. Bush who lived in the 900 block of Perry Ave.
A few minutes later, Pep sent this amendment: Ken, on further checking, make that "Jay Moore"…a bow to those changes that have come with age.  His Facebook is "Jay".  So be it!

I replied, That's OK. Kenny morphed to Ken as soon as I crossed the Mississippi River headed out of state.
That's what college is for, a chance to reinvent yourself.
Here's a gallery of the group and their audience
As always, click on any image to make it bigger, then step through the gallery by clicking on the left and right sides.
Tribute to real folksingers
If you were a Peter, Paul & Mary fan, here's a tribute I posted when Mary Travers died. I photographed them when they performed at Ohio University the day after Martin Luther King was gunned down in Memphis. They were a class act on stage and off.