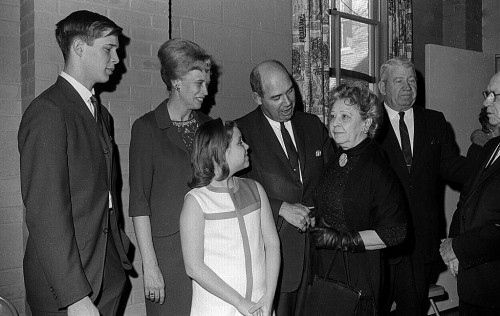 An estimated 400 Cape residents met the city's first city manager and his family at a reception Feb. 10, 1966. In this photo, which ran on the front page of The Missourian, the caption read (paraphrased), City Manager Paul Frederick greets Mrs. Arthur W. Thilenius, while the Fredericks' son, Jon, Mrs. Frederick and the Fredericks' younger daughter, Mary look on. The Fredericks' older daughter, Pauline, is attending college in North Dakota and was unable to attend the reception. Mayor Charles Hood is at right.
(Sorry, Jon, for getting you with your eyes closed. Following in Frony's footsteps, I only shot three frames at the event and you were cropped out of the other two.)
The Frederick family came from Minot, N.D. He served until 1970, when he resigned and was replaced by W.G. Lawley of Camden, Ark.