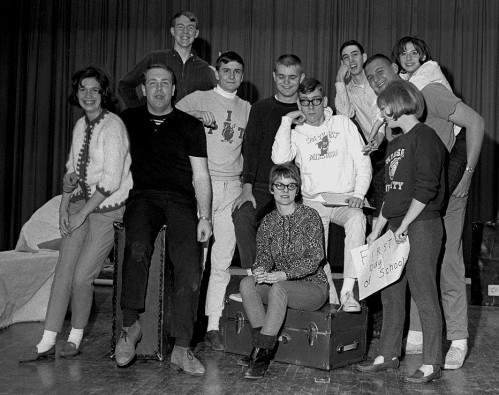 We haven't had a mystery post in quite awhile, so here's the question: What is the name of the play? I thought it was My Sister Eileen, but I couldn't find anything in the Google News Archive for 1964-1965 in either The Missourian or The Southeast Weekly Bulletin that supported my guess. Ditto my Girardots.
Was it Our Hearts Were Young and Gay?
Vicky Roth wrote a piece for The Missourian's Youth Page on Feb. 15, 1965, headlined Casting for Red Dagger Production Is Completed.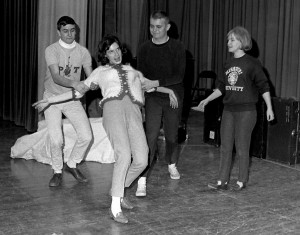 Cornelia Otis Skinner will be portrayed by Miss Sally Wright, senior, and Miss Sharon Stiver, who is also a senior, will enact the part of Emily Kimbrough. Cornelia's father will be played by Albert Spradling, and Mrs. Skinner will be characterized by Miss Mary Sudholdt. The two young women's romantic interests, Leo McEvoy and Dick Winters, will be portrayed by John Magill and Lee Dahringer.
On a cruise to Europe, Cornelia and Emily have amusing encounters with the ship's company, among them the steward, Gary Fischer; the purser, Steven Crowe; the stewardess, Miss Frances Hopkins; the admiral, Wm. East [Editor's note: The Missourian had a style quirk that said to abbreviate William as Wm.]; and the inspector, Miss Marcia Maupin. The two girls also meet two English girls, Harriet St. John and Winifred Blaugh, portrayed by Miss Norma Wagoner and Miss Ann Buchanan, respectively.
During the Paris visit, Cornelia and Emily conquer their living problems with the aid of Madame Elise, Miss Yyonne Askew, the landlady, and her daughter, Therese, played by Miss Sheila Kirchoff. Cornelia also attempts acting lessons with the "great" French actor, Monsieur De La Croiz, who will be portrayed by Ronald Marshall. During the confusion and laughter, the window cleaner, Grant Holt, adds his comments to the hilarious events. The play is under the direction of Mrs. Wm. Busch.
It STILL sounds more like My Sister Eileen
When I read a synopsis of My Sister Eileen, it sure sounds like the characters I see in the photos, up to and including the pack of Portuguese Merchant Marines and their conga line, led by Sherry McBride.
I started to put names on the pictures, but then decided, hey, if I don't even know the NAME of the play, what are the odds that I'm going to get the names of the cast right? So, I'm going to throw up a gallery of photos, some of which have names (some of which might even be correct); the rest are going to be fill-in-the-blanks.
Gallery of high school play
Click on any image to make it larger, then click on the left or right side to move through the gallery. Good hunting.