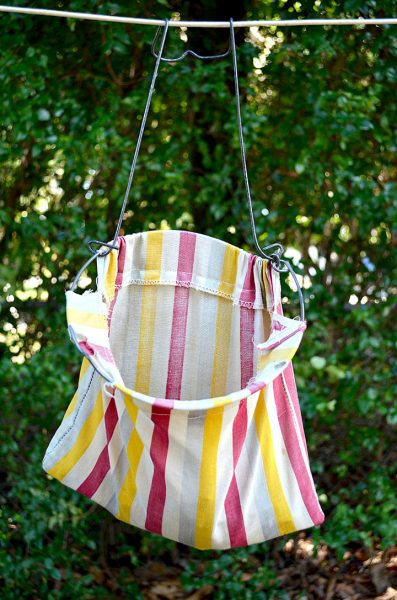 I'm at the stage of life where I should be getting rid of stuff instead of acquiring more, so I haven't claimed a lot of things from Mother's house. One thing I snagged was the clothespin bag she'd hook over the line while hanging up the laundry.
She and Wife Lila both preferred to dry clothes and sheets where the wind and sunlight can do the job, even though perfectly good dryers were available.
Wood cart Plan A didn't work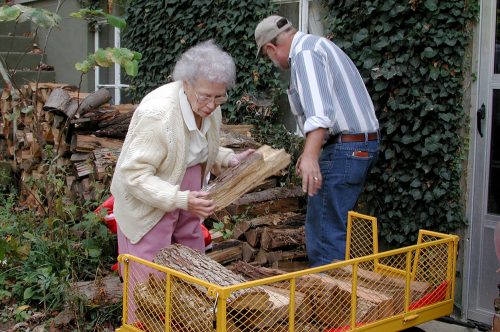 The basement has some furnace ducts, but most of the heat comes from a wood-burning fireplace. For Mother's 2004 Birthday Season, I bought her a garden cart that has been featured in a bunch of funny family photos.
The only problem was that it could just barely make it through the basement door, and, when fully loaded, weighed more than she did.
It became the wood depot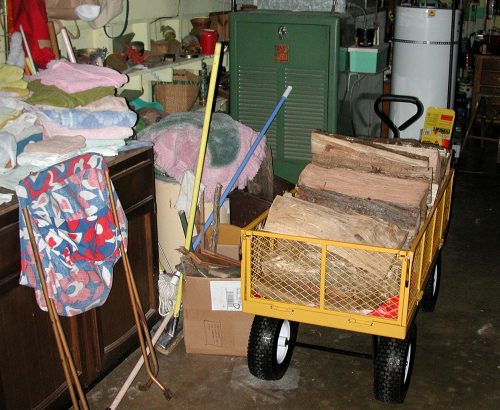 Whenever one of us boys hit town, we'd load the cart to the brim for her to draw from if the weather was too bad to go outside to replenish the wood bins on either side of the fireplace
The bright-colored fold-up thing on the left wide of the photo was the laundry cart she'd use to haul the wet clothes down the hill to the "garden" where the clothesline lived.
"It's too nice for wood"
For short hauls from the wood stacked outside to the bins, she'd load the firewood into a clumsy metal cart that would just as likely dump its load as carry it if it wasn't balanced just right. On top of that, the wheels and axles had long gone kaput, and Brother Mark had "repaired" them with axles that were about two inches too long on each side, so they'd snag the door weather stripping on the way through.
I hated that bleeping cart, so I bought her a nice-sized heavy-duty plastic cart that wasn't too heavy, was well-balanced and would fit through the door.
"Smile and say 'thank you'"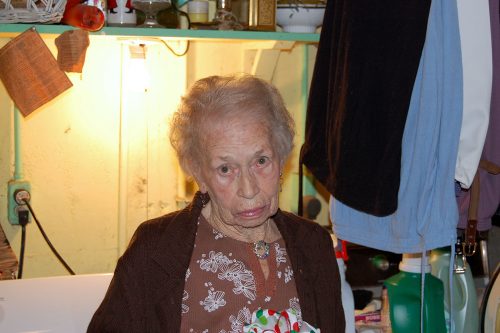 After she had a fit about it, (leading to a discussion about "what you do when someone gives you a gift, even if you don't want it," leading to the right answer, "You grit your teeth, smile and say, 'thank you.'") but, eventually, she smiled and said, "Thank you."
The only problem was that she didn't want to "get it dirty," so she wouldn't put firewood in it. It got pressed into service replacing that cloth rolling laundry cart, which WAS a good second choice.
This, by the way, was her cranky expression. We got that during Birthday Season 2008 when she came home to find out that we had replaced her washer, which was leaking water all over the floor. We finally convinced her that it wasn't a good idea to be standing in water while operating an electrical appliance.
She was more accepting by 2009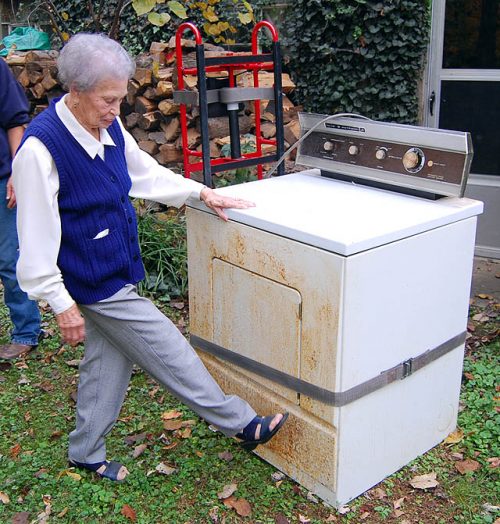 She was ready to kick her old dryer to the curb in 2009, so we didn't get much resistance when we replaced it.
Mark and I kept trying to convince her to let us move the clothesline closer to the house so she wouldn't roll down the hill, be buried under a bunch of wet clothes, then drained dry by a cloud of mosquitoes, but she wouldn't hear of it.
By last fall, we could tell her energy was fading because she was using the dryer more and more. Mark and I planned to surprise her with a new clothesline, but we never got the chance.
Laundry on the line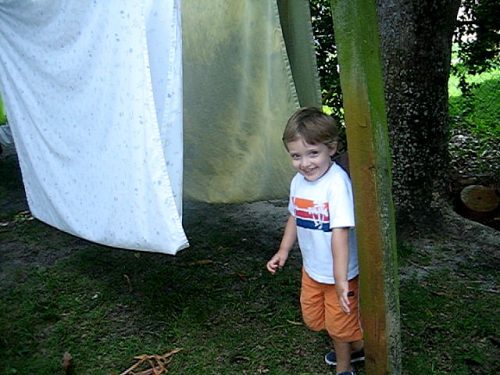 I'll keep Mother's clothespin bag hanging in my office, and Wife Lila will keep hanging laundry on the line for grandkids like Malcolm, age three at the time, to run through. (Here's the video version of it.)
When I went away to school at Ohio University, the semester was winding down; I was working as photo editor for the school paper, and I had a bunch of final exam work to get done, so Mother's Day slipped by unobserved.
That mistake made me sure it never happened again, hence this post. Happy Mother's Day!