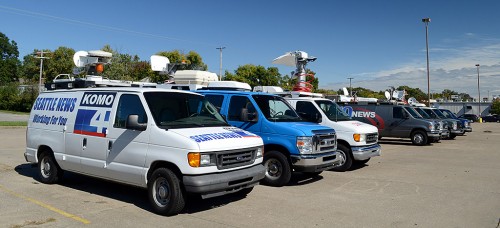 Based on what I've seen in The Missourian and Facebook, Cape has gone gaga over the Gone Girl movie being filmed there. There were daily postings of the Common Pleas Courthouse terraces being covered with mock snow, the production's caterers, actors exercising in local gyms, etc., etc., etc.
I was going to do all I could to avoid covering any aspect of it, but I happened to spot a gaggle of what looked like TV satellite trucks in a parking lot on Independence just west of West End Blvd. on my way to the grocery store. Wednesday afternoon, I figured I'd take a run by there to see if anyone was around.
I drove past signs saying "Transportation Parking Only" and "Absolutely No Public Parking." I mean, my VAN is transportation, right? And if I don't shut my motor off, I'm not parking, right? Besides, there was nobody around to be offended and parking abounded.
Something is strange here
The truck in the front says KOMO 4 Seattle News. That's a long way from home. Google confirms that a KOMO 4 exists in Seattle, though.
Miles of wire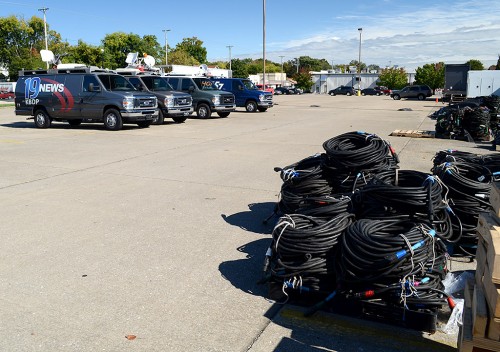 This shot picks up pallets of wire and more news vans. There's a problem with KBDP: Google can't find it. The same was true in another photo. WMNB 5 Live, with California tags, comes back as a Russian media group. KPLR 11 Fox 2 looks fake, too. There are Fox 2 stations in St. Louis and Detroit, but neither have the callsign KPLR. I'm going to assume these are prop vehicles.
Seeing all that wire reminded me of a time when I shot production stills for a video company doing a series of commercials. The effects those guys could do with simple lighting was amazing. I never looked at a movie the same way again.
Celebrity stakeouts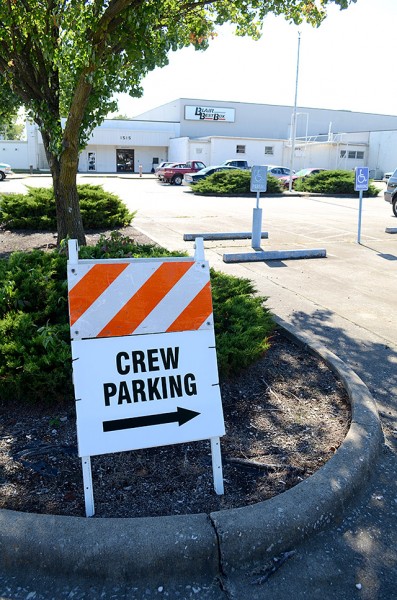 I worked for a city editor once who was starstruck. At even a whiff of celebrity, he'd have one of us staking out a house for days.
I hated that kind of thing, so I'd knock on the door and say, "I'm Ken Steinhoff from The Post. I'd really like to have five minutes with Joe Star to take a nice portrait to get the city editor off my back. If he really doesn't want his picture taken, I'll respect his privacy and not lurk around peering through hedges. I'll be the guy sitting in the shade reading a book. If he doesn't want to be seen, have him go out the back."
I did manage to shoot some nice portraits of celebs over the years, but not by skulking in the bushes.
So, if I run into a movie shoot, I'll take a few frames, but I'm not going looking for the action.